Sky gazing Hare forges a friendship with the moon.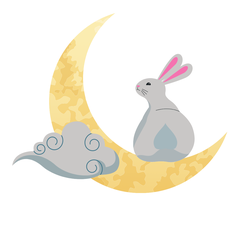 Helen Lusher, Writer
I have a picture of a hare jumping over the moon and I love the old Chinese moon-gazing hare ornaments. Christmas is a time to be with friends and loved ones, it's a time to reach out. I loved Aesop's fables, such as how the elephant got its trunk, I love mythology, how the stars were created, so I wanted to create a mythological story about a moon-gazing hare and how the crescent moon found a loyal companion.