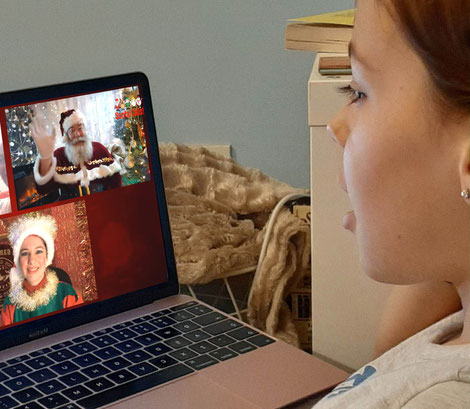 We are committed to delivering a magical & unforgettable experience...
Our Santa Calls Experience At a glance...

Prices start at £25. It should be affordable this Christmas.

World class Santas and production, we are professional filmmakers and actors.

Slots throughout the day and early evening. Choose what's good for you and your family.

Whole experience is around 10-15 minutes, with elves and Santa.

Safety first. We are all DBS checked.

No extra or hidden costs. The video, letter to Santa and the fully customised experience is all included in your single purchase.

Keep and share the video on social media for family and friends to see.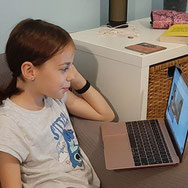 'It was lovely. Great attention to detail. Emmeline loved meeting Santa and chatting about her favourite things such as shoes and Harry Potter. She was thrilled when Santa talked about how good she'd been during lockdown. Very much recommended.'
Lucy, Mum of Emmeline, Devon,
November 20th 2020
Book your slot here...
How it works... In detail...
We will deliver some seasonal magic, right into your living room.
Select and book your time slot, and you will be sent a link.
On the day you will be met by one of our elves online.
Then, join Santa for a ten minute chat that will be unforgettable and magical.
Santa will have already reviewed the information supplied by grownups and will 'magically' know what to ask the children.
If your children wrote and posted a letter to us, Santa can also read the letter in the call.
We can accomodate as many of your family as can fit on the sofa and webcam! The more the merrier.
Upon leaving, you will again be greeted by an elf to ensure your outstanding experience.
Soon after, you will get a link to download the video to keep forever and share on social media.
All these extras included in the one package.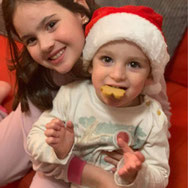 'My kids loved LOVED meeting Santa and his elf Pippy! Santa seemed to know a lot about the kids which made it all the more magical, thanks to the short questionnaire when booking the call. The animated graphics and scripts are AMAZING, and you can almost smell the eggnog in the air! It was lovely. I really got into it, the delight was contagious. Hearing the sleighbells, the animations, watching the video of Santa feeding the reindeer, and Santa's big book really hit all the Xmas notes.'
Maureen, Mum to Alexia and Matheo, Glasgow,
November 20th 2020
How we deliver the magic... with a little 'help' from you
This should and will be a magical experience. As a parent you know how excited your children will get, and we work very hard to make the conversation and interaction truly enchanting.
The whole experience is live and interactive.
Personalise the experience by sharing 'intel' with our elves in advance so that Santa magically knows exactly what to say.
Send us a hand written note, via the North Pole of course, so Santa can refer to it in the call.
Share the link with other family members so they can watch live.
Elf triage... you will be met by our elves on entrance and leaving, to ensure your outstanding experience.
Get an edited video of the experience to keep and share.