Going to bed can be the biggest adventure of all.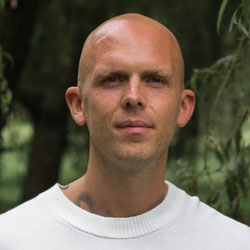 Dominic Brancaleone, Writer
Dominic Brancaleone is a writer from the South Coast of England. Having completed his MA in Screenwriting at Bournemouth University, he has produced a number of short films and scripts for the stage and screen. Breaking away from his customary writing style that suits both drama and dark comedy, this is his first attempt at writing for a younger audience.
Inspired by his daughter, Leia – who has a fabulous imagination and loves the outdoors and nature – A Bedtime Adventure follows her journey to bed, which she imagines being a fabulous exploration of a snowy mountain. Making lots of friends on the way, Leia climbs, bathes and brushes her teeth before finally settling to sleep. A lovely debut piece that has inspired the writer to produce more for this demographic.