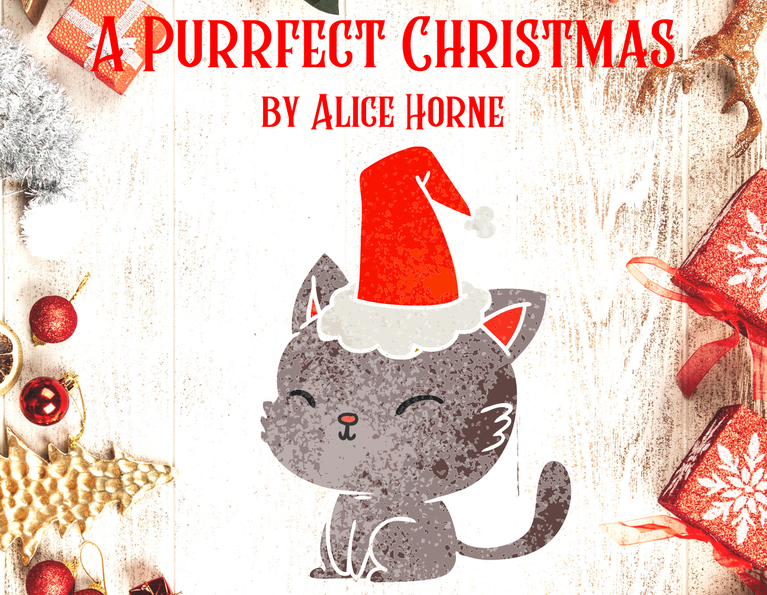 Jade had hung up her stocking, she'd left out a mince pie for Santa, and she was wearing her special Christmas pyjamas. But she couldn't go to bed just yet. She was looking out the window of their third-floor flat for Mystery, her cat.
"I can't sleep until Mystery's home," Jade said to Mum. "She might miss Christmas!"
"Don't worry," Mum replied. "Mystery often wanders off at night. She'll be back soon."
What Jade didn't know was that Mystery disappeared each evening to keep an eye on everyone in the block. Today was Christmas Eve, which meant she was especially busy.
First was the entrance hall, which had little post boxes for each of the ten flats. One small parcel was poking out from behind a plant pot.
"Someone must have forgotten a present," thought Mystery.
The address read: Mrs Cole, Flat 1. The cat dropped it round, tapped on the door, then scurried to Flat 2.
Mr Robinson was too busy carrying a huge turkey and a bag of vegetables through his door to notice Mystery slip in with him. His Christmas tree lights were twinkling, and brightly coloured presents were piled up beneath it.
"Everything's in order here," Mystery thought.
Just then, a Brussels sprout bounced out of Mr Robinson's shopping bag. He stepped on it and… "Whoops!"
Mystery quickly moved a chair to catch his fall.
"Phew!" said Mr Robinson, not seeing Mystery leap out the window and jump upstairs to Flat 3's balcony, where Mr Gitonga had hidden a strange object with two wheels, a little basket, and a huge bow.
The cat peered in and saw the Gitongas enjoying a big meal, so she hopped happily to the next balcony. Everything was just so in Flats 4, 5 and 6. In Flat 7,
Mystery nudged the freezer closed so the Spencers' food wouldn't get ruined, and in Flat 8, she fished out some ribbon from under the sofa so Miss Collins could finish her wrapping.
But Flat 9 looked very different. Mr Montgomery was sitting in the dark watching the telly, which was turned up very loud. There was no tree, no presents, and his cupboards looked a bit… empty. Mystery skidded on an unopened Christmas card by his front door.
This gave her an idea. She took the card and headed to her favourite flat: Number 10.
"Mystery!" shouted Jade happily. Then she spotted the card. "This isn't for us, silly. It's for next door." Jade decided to drop it round, along with a mince pie. (It was Christmas, after all.)
Jade had to knock very hard, but eventually Mr Montgomery answered.
"Merry Christmas!" she said, handing him the mince pie. As she did, she realised his home wasn't Christmassy at all…
When Mum finally kissed Jade goodnight, Mystery snuggling up at her feet, she had a thought. "Mum, could Mr Montgomery come round for Christmas dinner? I think he's lonely."
"Wonderful idea," said Mum. "Now, time to sleep!"