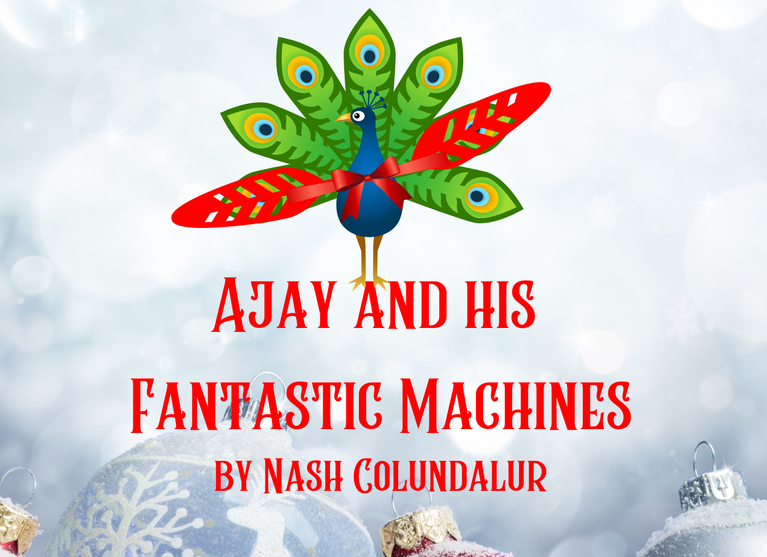 Once there was a lonely boy, living on a lonely street, that could be anywhere. Then there was a sprinkling of snow and a cheerfulness everywhere. Ajay knew what this meant. It was that time of year. It was Christmas.
Instead of being happy, Ajay was feeling sad. He was feeling bad and he went to talk with his dad. Ajay, his dad said, I know you look different from your friends. We love you, but Santa doesn't visit Sanjays, Shantis or Ravis.
Ajay thought Santa did not like him because he was brown.
Ajay thought no one liked him for he was the only Asian in town.
So, he stayed at home and did what he did best. He built machines that didn't work one bit!
The rapid egg boiler that splashed egg on all the house!
The perfect lipstick machine that painted all over mum.
The vacuum cleaner that whirled grandma right in.
Then one day Ajay found a dog with three legs. He built a leg for it and it
worked! Mr Dog hopped around in glee.
Next day there was a cat with a missing eye. Ajay built a super eye for Mrs Cat.
Next day there was a hippo at the door with a missing tooth. Ajay built a perfect tooth for Mr Hippo.
Then there was a peacock with missing feathers. Ajay built a great big plume for Mr Peacock
The next day when Ajay opened the door, a long line of animals were tapping on the floor. At the end of the line was a man in a red suit and a long flowing beard and his Reindeer that could not fly anymore! Ajay knew who this was!
He built the most beautiful, invisible magic wings for the Reindeer family.
And every year after that, Ajay waited for that the great flapping of wings as Santa and his sleigh landed in his backyard. And Santa said, brown, white, black, boys and girls, why even purple, green and blue, and short, stout and tall - I love them all!