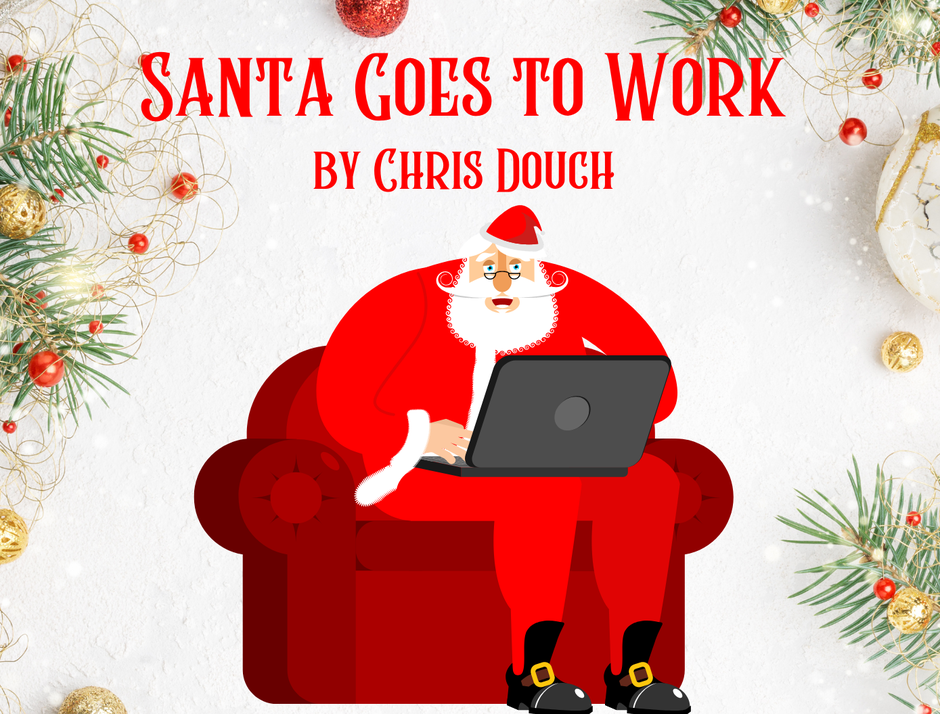 'Twas the week before Christmas and Santa's sleigh was in desperate need of repair. A lifetime of carrying such a heavy load had left it in terrible shape. 
A snowman mechanic coldly inspected the damage and totted up a ginormous bill.  
Santa dug deep into his pocket but all he could find was two chocolate coins, a large paperclip that he'd won in a cracker, and a very crumpled (but still tasty) mince pie. 
You see, there's one major flaw in Santa's business plan. He never asks for payment. 
It turns out that giving presents to every child in the entire world and not asking for anything in return had left Santa totally broke.
There was no other option. If Santa wanted his sleigh ready for Christmas Eve, he was going to have to get a job! 
The very next day, Santa began his first shift working behind the counter of the North Pole's busiest fast food restaurant. 
He loved seeing the smiles on the customers' faces when he handed them a free toy along with their meal.
But he quickly became so distracted giving out gifts that he forgot all about the food. Instead of putting a burger in a bun, Santa was serving up tray after tray of plastic toys. There were airplanes in the hotdog rolls, fluffy teddy bears in the ice cream, and the fries were boxes of yellow building blocks!
One customer complained after chomping on a disgusting Double Toy Burger with Cheese and the manager had to let poor Santa go.
It wasn't long before he found his second job, selling tickets at a local cinema. 
But Santa's sharing spirit meant that he couldn't help but give the ending away before the movie had even started. 
Spoiler alert! He lost that job, too. 
Determined as always, Santa applied for a job as a Porter for a fancy hotel. 
He was a natural! All those years transporting presents had made him an expert at carrying luggage. 
It was the perfect job… Until he was caught trying to shove a rather posh suitcase down the dusty chimney!
Out of work again, Santa headed back home. With no money to pay for the repairs, Christmas would have to be cancelled.
But wait, what's this? His beloved sleigh looked as good as new.
Santa was confused. It was a Christmas miracle!
It was then that he noticed three familiar faces.
His managers from the fast food restaurant, the cinema, and the hotel were all there and they'd clubbed together to pay for the repair.
They explained that because he always tried to help others and had the best of intentions in his heart, they wanted to do something nice in return. Besides, this was clearly the job he was born to do.
Santa thanked them for their generosity and got straight to work… Well, right after he'd eaten that crumpled mince pie from his pocket. Yum!

------------
Chris is a writer for television and radio, primarily working within kid's comedy. He has credits for popular shows such as Gigglebiz, Crackerjack, and Diddy TV, and recently wrote a series of modern fairytales for the Brian Blessed's Bedtime Stories podcast.