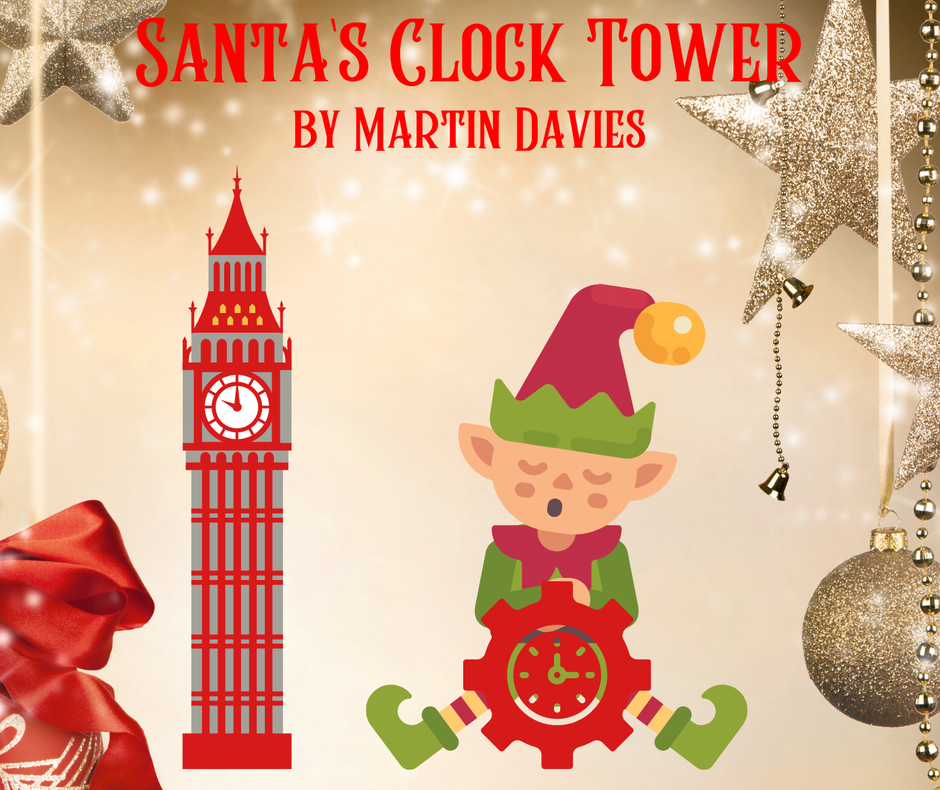 Elves celebrated in the town square, congratulating one another on a successful year of gift-making. They cheered and made merry around Santa's famous clock tower. It does not matter how many Christmas Eve's you have celebrated, the tenth chime of the clock -indicating the start of Santa's journey- is always joyous.
'There he is. It's Santa!' a young elf shouted, much to the delight of his friends.
But there was one elf, Winston, who was not yet able to celebrate, for he still had a job to do. He was the clock's apprentice. He had spent the year in training, learning how to alter Time itself, allowing Santa to make his deliveries successfully.
Winston's head wobbled like a bowl full of jelly as the tenth chime rang out around the North Pole. His moment had come, it was his time to shine. He turned to his master, Rufus, for support, but he wasn't there.
Panicking, Winston peered out of the tower, overlooking the excited elves below. He spotted Rufus, a mulled wine in hand, hugging the teddy-crafters from Chestnut House.
Winston went into a blind panic. He put the small cog on the large clock hand by mistake, and then stumbled backwards onto the winding mechanism, causing an eleventh and twelfth bell to chime.
He had wiped two hours off Santa's schedule. With a desperate glance out of the snow-speckled window, he watched Santa and his reindeer's whizz through the air, disappearing into the stars so fast that Santa couldn't make out his Dancer's from his Prancer's.
I've broken Christmas!' Winston cried.
Rufus darted up the winding staircase and was back at the helm in the blink of an eye. 'Don't panic, young elf,' he reassured Winston. 'We've missed three villages, but Christmas isn't completely ruined.'
'Three villages? That's nearly three hundred children.' Winston couldn't bring himself to think of those poor children waking up to empty stockings. 
Elves cheered and whooped down below as the clock began to slow. Every second felt like a minute, the way it should do on Christmas Eve. The Clock-Master was back in control.
Santa completed the remaining deliveries and returned as the morning sun broke. 'Ho-ho-ho,' he bellowed towards Winston and Rufus. 'May you have a long and happy retirement, Rufus. And I look forward to next year, Winston, when the apprentice becomes the master.' Santa tried to sound jolly, but Winston knew he must be heart-broken, as several disappointed elves collected the beautifully wrapped, but unopened, parcels for the grotto.
'I look forward to it, sir,' Winston mumbled. He slumped back down, knocking a cog off the minute hand and somehow reversing Time, at one hundred times the speed. Before Rufus could regain control, they were back at the tenth chime of Christmas Eve.
'Maybe I'll stay on for one more year,' Rufus chuckled. He handed Winston a mince pie, as Santa set off to do his round, once more. 'But don't worry, Winston. I think you may have just saved Christmas.'