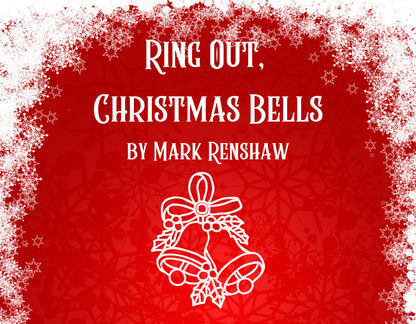 Ring out Christmas bells, through the Wi-Fi
   The streaming cloud, the smart device:
   This year is melting like the ice;
Ring out, Christmas bells, and let peace fly.
Ring away the tears, ring in a cheer,
   Ring, Christmas bells, around the street:
   Let fear be replaced by happy feet;
Ring out fake news, hold truth dear.
Ring away frowns, the downward slope,
   Ring for those lost this year;
   Ring out every precious tear:
Ring in the chime of uplifting hope.
Ring out divisions which sets apart,
   And pits on opposite sides;
   Ring in more noble guides:
To bind together, as one pure heart.
Ring out the self, the me, the want,
  The disconnect of the internet;
  Ring out the worrisome threat:
But ring the creative child in.
Ring out gossip, in words and deeds,
  The who said what, the where the when;
  Ring in strong women and honourable men:
Ring in combining culture and creeds.
Ring out the half-truths and lies;
  Ring out the fifteen minutes of fame;
  Ring out the bitter words of gain,
Ring in the lessons of the wise.
Ring in one race, one mind,
  One planet, one place to call home;
  Ring out the fear of being alone:
Ring in the age of being kind.
Find Mark on his website: http://mark-renshaw.com/